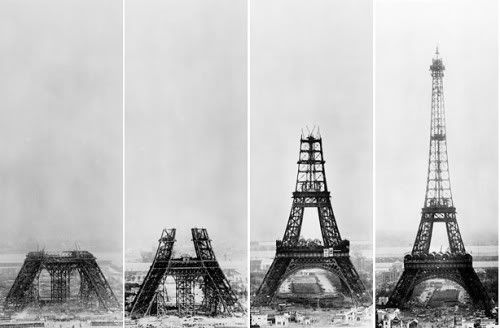 See the Eiffel tower progression? I saw something like this once, it was the year 2007, except I saw the Singapore flyer instead. I was on my way for an SYF stage run and it was just embarking on its route to completion . 4 months later on my way to SYF , it was half done. I was 16 then.
It's been 4 years since then and I'd still dig out that memory, unearth those images and relive those emotions I felt when I saw it half done. Time just flew by, what happened to those days when I was 14 and time just crawled it's way past me like a sloth? Why do the minutes seem shorter and the moments going by, so much faster?
Good god, I'm growing old. And 40 years down the road I reckon time would reverse it's roles and sit down to sip tea with me and forget all the rushing and walking and rushing and walking and rushing... ... Pretty much just like me.
A wave of events have flooded me of late , attending a wedding, performing for a wedding, hitting a club or two, uncalled for catty drama and self reflection. I've nurtured quite a flippant attitude to what other people think of the things I do and how I'm like because it has sunk in that those are the people who would never care, who would always be curious and who would always judge. That aside, I used to question me, then i was completely fine and dandy with who I was and with the recent turn of events, I questioned myself. Twice. Two different incidents , questioning of two different ends of a spectrum of my character. It was taxing thinking about it but I guess it's about embracing the good parts of my character traits *shrugs* Easier said than done. Thank god for the ones close to me, in times of doubt they nudge me to see the things that were overwritten by my own questions. For the first time in my life, I feel close to those around me. My own friends, friends that I've made through joel, my family and joel himself. I'm still that hermit, but I don't just stick my head out of the shell only when it's dark and quiet anymore.
It's FRIDAY TOMORROW WHOOO. I've decided to unleash my hidden thoughts everyday since I'm stuck in the greenhouse for so long with so much time, just canoodling with my laptop.